Filter by Category
Primary Care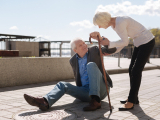 Matter of Balance
with Judy Green, WMH Physical Therapy

Sep 5, 2018 at 9 am

, runs for 8 weeks
This 8 session course is designed to help older adults overcome the fear of falling and increase activity levels. You will:
gain strength and balance with easy in-class exercises
be taught to set goals for activity
learn how to make changes to your home environment to reduce the risk of falling
This class is taught by Judy Green from the physical therapy department at Stephens Memorial Hopsital and by community leader Bonnie Ripley.
Understanding Dizziness
with Amy Bottomley, DPT, WMH Physical Therapy

Sep 18, 2018 at 10 am
Is your world spinning?  Are you dizzy when you move your head or your body?  Are you having trouble walking or moving your body because you are dizzy? Vertigo is a common problem that causes dizziness, especially among older adults. 
Join Amy Bottomley, a physical therapist (PT) from Stephens Memorial Hospital, for an hour long class on vertigo, including common causes and ways to help.  Amy has her doctorate in PT and is certified in vestibular rehabilitation from the American Institute of Balance and Emory University.
Will run