Filter by Category
Behavioral & Mental Health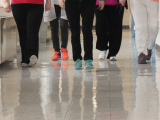 Walking for the Health of It!
with Stephens Memorial and Lorie Olson, Maine native,and avid hiker/kayaker who has a great love and connection to the outdoors

Next session starts Jan 8, 2019 at 4:45 pm
Join Stephens Memorial Hospital every Tuesday and Thursday and beat the winter blues with our indoor walking program. In this program, you will enjoy the benefits of walking and staying active during the cold winter months. This class is for all walking levels. Be sure to wear comfortable walking shoes, bring water and join us for the Health of It!
Please Note: If school is cancelled due to weather, there will be no class.