Filter by Category
Behavioral & Mental Health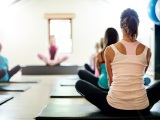 Early Morning Yoga (4 week series)
with Wendy Dillon, RN Stephens Memorial Hospital

Sep 4, 2018 at 7 am

, runs for 4 weeks
Start your day on a positive note! Experience the benefits of this delightful morning flow. Join SMH and Wendy Dillon, RN for a moderate flow yoga experience for all skill levels! You will wake your body up and spend time connecting with yourself before heading out into the world. Bring a yoga mat, an eye mask or towel to cover eyes, a cushion or blanket to sit on, a bottle of water & wear comfortable clothes. Make sure to sign up early, as there is limited availability.
Walking for the Health of It!
with Lorie Olson, Maine native,and avid hiker/kayaker who has a great love and connection to the outdoors!

Sep 11, 2018 at 4:45 pm

, runs for 8 weeks
Join Stephens Memorial Hospital every Tuesday and Thursday for eight weeks with our indoor walking program. In this program, you will enjoy the benefits of walking and staying active as the weather is starting to get cooler and the days are getting shorter. This class is for all walking levels. Be sure to wear comfortable walking shoes, bring water and join us for the Health of It!
Please Note: If school is cancelled due to weather, there will be no class.